R.C. Bray Remade the Sector 64 Audiobooks
Hello, my copilots. Popping in to let you know that R.C. Bray remade the Sector 64 audiobooks for Ambush and Retribution, books one and two. Ambush is available here, and Retribution here. Next, we'll release Amplitude, the third book in the Dimension Space series, in the first quarter of 2020.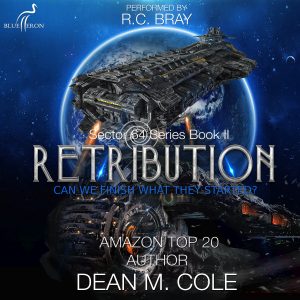 That's three R.C. Bray narrated audiobooks in as many months! Set aside a few Audible credits. I'll post updates here and on my Facebook Page.
Free R. C. Bray Prequel Novella
While you're waiting, you can listen to Bob Bray's excellent performance of First Contact, the audiobook for the Sector 64 prequel novella, for free. Get your copy here.
More Later
I'll let you know as more details come available. Till then, cheers!
Dean M. Cole
PS: A quick note about why we remade the Sector 64 audiobooks. Ambush and Retribution were previously recorded by a different narrator, Mike Oretgo. He did a great job. However, R.C. Bray did the prequel, and he'll be doing the future books in the series, so he is redoing books one and two so that the complete series will have one voice.
Copyright secured by Digiprove © 2019 Dean Cole