How This Airline Pilot's UFO Sighting Led To A Bestselling Novel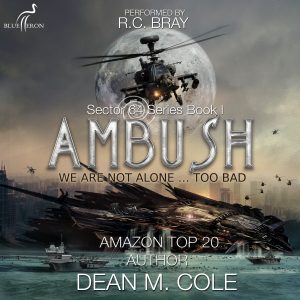 Find out how this airline pilot's UFO sighting led to a bestselling novel. Did you know I modeled the movements of the strange ship in the first scene of my bestselling sci-fi novel, Ambush, after the flight profile of a UFO I saw above Fort Hood, Texas?
In this blog, I'll lay out exactly what we saw and where. I'll also tell you what it might have been and how that ties into my novel's backstory.
This Airline Pilot's UFO Sighting
I, along with several of my fellow Apache pilots, had the sighting on a dark, predawn morning. At the time, I was in First Cavalry Division's 1-227th Aviation Regiment, and we had recently returned from the Middle East following Desert Storm. The sighting occurred about an hour before sunrise. We were doing stretching exercises in a parking lot along Fort Hood's Motor Pool Road, preparing to start the morning's PT (physical training). The eastern horizon hadn't even begun to glow, and the moon had already set, so the sky was black, a cloudless, star-filled night.
We were seated in a semicircle oriented toward the base's massive, live-fire impact area: a miles-wide no man's land ringed by hundreds of firing ranges for everything from pistols to artillery cannons. The impact area was also where we performed live-fire exercises in our AH-64 Apache Attack Helicopters. Additionally—and this is highly germane to the significance of the sighting—military fighter jets regularly performed maneuvers over the impact area.
It all started when a fellow pilot peered up into the sky and asked, "What is that?" Following his gaze, we all looked up to see what he was talking about. Then we sat mesmerized for the next couple of minutes, watching a point in the sky cut a halting, zigzag pattern across the starfield. The object hung at an extremely high altitude. It glowed brightly, bathed in the light of a sun that hadn't yet brightened the still-black eastern horizon. If not for its sporadic movements, I would have thought it a satellite of the variety you often see shortly before sunrise or after sunset. At the time, I recall thinking the thing must've been at an altitude of at least a hundred thousand feet. Having since flown jets at high altitude at the same time of night, I still believe that estimate accurate.
The object would hang motionlessly against the starfield for a moment and then dart across an appreciable swath of sky. Using Pythagorean theorem (A-squared + B-squared = C-squared), I've guesstimated those instantaneous jaunts as miles long. The only way I could describe the speed with which it moved would be to tell you to imagine that you shine the spot of a laser pointer at a wall across the room from you. Flick your wrist a few degrees and snap that red dot to another point on the wall, and you will see the kind of rapid, almost instantaneous movement that we saw the object executing.
After a couple of minutes, the apparent vehicle dropped to a lower altitude and passed out of the sun's radiance. It disappeared. I exchanged silent looks with my fellow pilots, but none of us commented. Actually, we never spoke of it. Not then. Not later. I have no reason to believe that a report would have been received negatively, but as a military pilot with nothing less than my aviation career on the line, I figured why risk the possibility of being looked askance by a disapproving eye. I imagine it was the same for the others, but I don't know. As I said, we never talked about it.
Anyone Else Seen Something Like This?
While I never discussed it then, I did, on occasion, discuss it with other pilots and individuals over the intervening years. Twice, I ran into highly intelligent, well-respected individuals who'd had similar sightings. One was the manager of an oil production facility in the Gulf of Mexico, and the other was a Canadian pilot I flew with in Africa. Both had seen a vehicle that moved exactly as I described above.
The oil company manager spoke of having seen an object silently hovering at treetop level. He approached to within a hundred yards of the thing before it darted away so fast its movement formed a blur across his vision. Then it was gone. He added that it had a ring of multicolored light filling the air around its equator (remember this part—there's a tie-in later in the blog.)
The Canadian pilot's sighting was not as close. His was more like mine except the movements he saw were even greater than what we witnessed above Fort Hood. He and I remain friends to this day. I'll be posting a link to this blog on my Facebook Author Page, so I wouldn't be surprised if he relates his sighting in the comments.
What Was It?
I never jumped to aliens, and I still don't believe that's what we saw. Remember that thing I said about fighter jets above the impact area being germane to the story? Well, here it is. After some thought, I suspected not aliens but us, that the US government had developed a craft capable of maneuvering in a manner that violated physics as we know it. Either through assignment or habit, an Air Force pilot was testing a vehicle at high altitude above Fort Hood's impact area, unaware that we could see it from ground level due to its being illuminated by the sun's rays.
How Could Humanity Make That Technological Leap?
I wondered about that for some time. Then I read an article about an obscure German physicist, Burkhard Heim, who had introduced an alternative quantum theory, Heim's Quantum Theory, or HQT, in the 1950s. He became an instant celebrity (in Germany) when he first presented his work. In the 1960s, Wernher von Braun, the famous German rocket scientist who fathered the United States' rocket program, aka NASA, approached Heim about his work and asked whether his Saturn rockets were worthwhile.
How Does HQT Tie In?
Burkhard postulated that spinning an extremely powerful magnet in a sufficiently powerful electric field would generate an anti-gravity effect. He also thought it would emit light in the form of particles he called gravitophotons. (Remember the light emanating from the vehicle in the oil company manager's sighting?) Additionally, Burkhard postulated that the anti-gravity bubble would isolate the vehicle's inertia, giving the vessel and its occupants the ability to accelerate and stop instantaneously, without being crushed by G-forces. (Sound familiar?) For multiple reasons, his theory was never put to an experimental test. Primarily because the cost, scale, and technologies involved exceeded his abilities.
However, it wasn't outside our government's abilities. Here's an excerpt from the Wikipedia page about Burkhard Heim:
"During the 1955 holiday week of Thanksgiving Day, the New York Herald Tribune, and The Miami Herald carried announcements about the completion of contractual arrangements between Burkhard Heim and Glenn L. Martin Company. Heim was to assist them with their gravity control propulsion project."
If that name sounds familiar, it should. Glenn L. Martin Company is one of the entities that became Lockheed Martin. That's the corporation that built practically every top-secret aircraft that ever graced a runway in the Air Force's secret Groom Lake airbase, popularly known as Area Fifty-One.
How This Airline Pilot's UFO Sighting Led To A Bestselling Novel
How does this former airline pilot's UFO sighting tie into Ambush? What if Heim was right and if the scientists at Martin and Lockheed along with those in Los Alamos and Sandia National Laboratories tested his theory? What if the US Government already has a craft that flies using an HQT inspired drive? What if someone made all of this part of the backstory of his novel?
I've flown an additional 9000+ hours in helicopters and jets since that dark morning in 1992, but I never again saw anything move like that unidentified (to me) flying object. I still don't know exactly what we saw in the sky above Fort Hood's impact area. However, I think the scenario I put forth makes a good backstory for a fun, thought-provoking, science fiction tale.
You be the judge: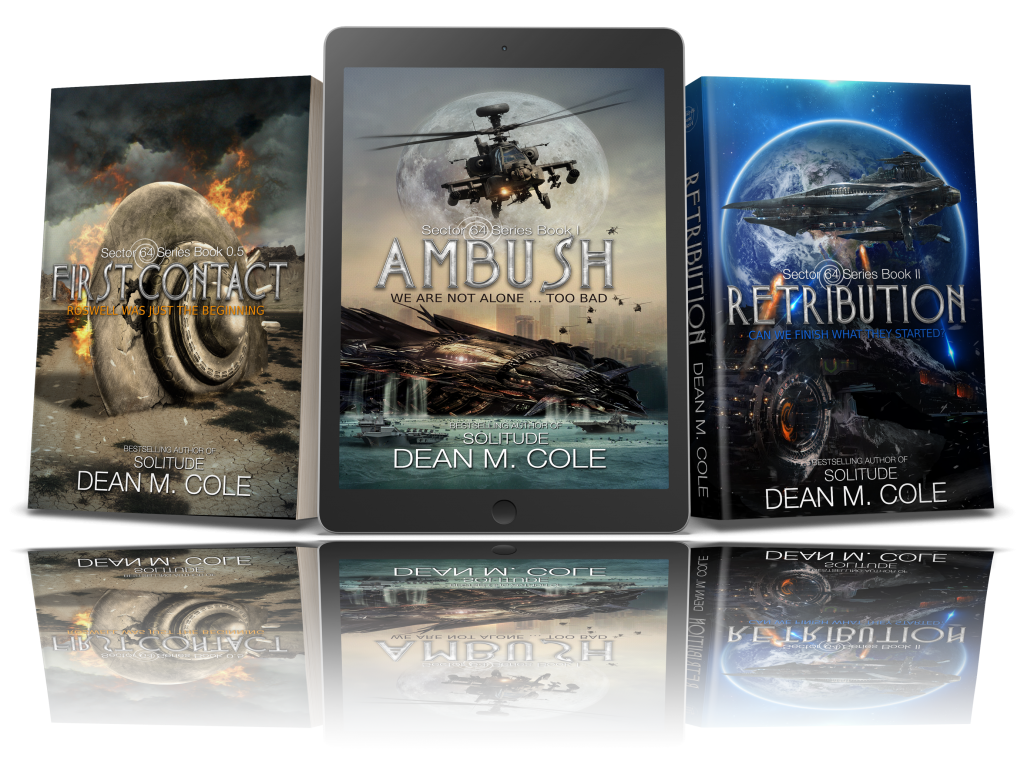 PS: No, It Wasn't The Autokinetic Effect.
A few people have suggested that we saw a visual illusion, the autokinetic effect. Also referred to as autokinesis, it's a phenomenon of visual perception in which a stationary, small point of light in an otherwise dark or featureless environment appears to move, but I can tell you with certainty, this was not what we were experiencing. As military pilots, we were fully aware of this visual illusion. It can be particularly dangerous if you're trying to land a helicopter at night by looking at a single point of light. It will appear to move around and trick you into thinking your aircraft is moving. We are trained to scan and find other points of reference to avoid this. In this case, the background stars were clearly visible. The point of light was moving against them in radical, instantaneous starts and stops.
Copyright secured by Digiprove © 2019 Dean Cole