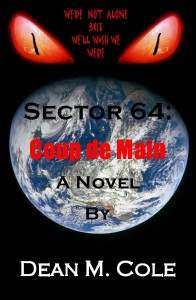 Many of you have asked when the next part of Sector 64 will arrive, so here's a quick writing progress report.
The first and second drafts of book two's beginning, middle, and ending are complete, but there's a hitch. I am working with a professional editor recommended to me by my Facebook friend, and very successful author, Scott Nicholson. Based on my editor's inputs, I am wrapping up an extensive rewrite of book one, SECTOR 64: Coup de Main, which has more than doubled its length. Coup de Main's outcome remains unchanged. However, I created a separate storyline for Captain Sandra Fitzpatrick. While she is a major character in book two, she played a minimal role in book one. To balance her side of the tale, and to give the reader another perspective on the story's other characters, I've thrown one of the attacking alien ships at Sandy and the West Coast.
While the addition of Captain Fitzpatrick's storyline has allowed me to seamlessly tie book one in with the events of book two, it also afforded me the opportunity to give the story's other characters more depth. Sandy's experiences also give the reader a clearer picture of the apocalypse the aliens visit upon us. While these changes do give the story more depth, I haven't added fluff. The additions are full of raw action, intense scenery, and heart wrenching emotions.
At fifty-two thousand words, the original SECTOR 64: Coup de Main was more novella than novel. The new story's beefy hundred ten thousand words bring it to the industry's standard length for a science fiction novel. Considering this, I will publish the revised story as an epic new novel based on the novella, Sector 64: Coup de Main. Since many of you already purchased book one, and waited a significant amount of time for part two, I plan to announce a twenty-four hour period in which the yet to be named book one will be available for free on Amazon. For those of you who'd rather only read the added parts of the story, I will release a free novella that splits Sandy's experiences out from the main tale.
All that having been said, I'm still at least a couple of months away from completion of book one. Much depends on my editor's timetable as well as my own work schedule.
Thanks for your patience. In my ever so humble opinion, it'll be worth the wait.
Copyright secured by Digiprove © 2013 Dean Cole