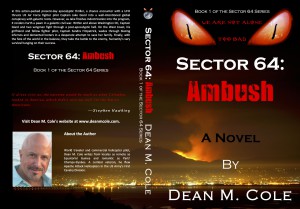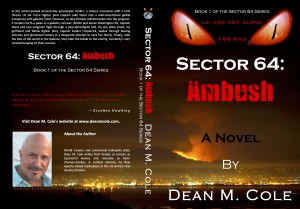 New science fiction novel, SECTOR 64: Ambush, is complete. Both the ebook and 500-page paperback are available on Amazon.
A dizzying chain of events thrust US Air Force fighter pilot Captain Jake Giard into a well-intentioned global conspiracy with extraterrestrial roots. However, as Jake finishes indoctrination into the program, it renders Earth a pawn in a galactic civil war. Within and above Washington DC, Captain Giard and two wingmen fight through a post-apocalyptic hell. On the West Coast, his girlfriend and fellow fighter pilot, Captain Sandra Fitzpatrick, wades through blazing infernos and demented looters in a desperate attempt to save her family. Finally, with the fate of the world in the balance, they take the battle to the enemy, humanity's very survival hanging on their success.
This new full-length novel, an action-packed present-day apocalyptic thriller based and expanding on the highly rated novella, Coup de Main, delivers a broader scope with twice the action, richer scenery, and additional characters drawn with greater depth. Tapping his experiences as a combat pilot, the author creates authentic dialogue and gripping action.
Copyright secured by Digiprove © 2014-2020 Dean Cole