A Day in the Life – Africa Part 1
I'm often asked what it's like to work, fly, and live in Africa. This telling of the story is an amalgamation of some of my African aviation and cultural experiences. Part 1 portrays the working part of our day, while Part 2 and beyond depicts our off time and the cultural experience that is sub-Saharan West Africa.
So, without further ado:
BEEP, BEEP, BEEP!
The beautiful blonde's smile falters, Wait don't go.
BEEP, BEEP, BEEP!
Reaching for her hand, I grasp only air, You're fading away…
BEEP, BEEP, BEEP!
Ah crap, it was just a dream. A smile crosses my sleepy face. But what a beauty … it was a nice dream.
BEEP, BEEP, BEEP!
Groping in the dark, I find the source of the cacophony: my iPhone. Bleary eyed and squinting, I study its face.
4:20am … Ugggh.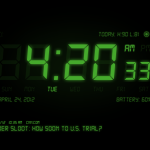 Thus starts a typical African day.
Resolved to begin another of my forty-two straight work days, yet not quite ready to leave the warm cocoon of my bed, I check in on a couple of my social media sites. (Love my iPhone; it's like a miniature laptop without all the fuss.)
4:20am here equates to 10:40pm in the Central Time Zone. Various friends are wishing each other good night. I throw out a few goodnights/mornings.
Fully awake I slide from under the covers into the air-conditioned room's chilly air. Proud of my manhood, yet concerned the effects of cold-induced shrinkage might become permanent, I quickly wrap a towel around myself, grab my shaving kit, and head for the warmer climes of my bathroom.
Thirty minutes later—showered, shaved, and dressed—we head to work. On this contract, we fly our helicopters out of Malabo's Santa Isabel Airport.
It's Saturday, we only have one flight today. Scheduled for a six AM departure, the total round trip should take less than an hour. One of us handles the flight planning while the other does all the day's flying. We share the load and take turns, either flying or doing the radio/paperwork thing on an every other day basis.
Today it's my turn to fly. (Beats working for a living.)
Flightplan filed, passengers loaded, and engines started, we receive our movement clearance. As I taxi to the active runway, the non-flying pilot reads off the checklist. I confirm the items and reply in the affirmative.
Centered on the runway, checklists complete, and in position, we receive our takeoff clearance. Announcing 'Lifting,' I bring the fourteen-seat helicopter to a low, stationary hover, and after a final check of the instruments and flight controls, tilt the helicopter forward, increase power, and accelerate down the runway. In seconds, we accelerate through 100mph as we climb at 800 feet per minute. Crossing three hundred feet AGL (Above Ground Level), we retract the gear, turn on course, and continue our climb to 2000 feet.
Completing all required radio calls, we navigate to the rigs, land, unload arriving passengers, and load the returning passengers. Departure checks and procedures complete, we begin our return trip to planet earth (or at least the small chunk of it known as Equatorial Guinea's Bioko Island). En route we spot something vaguely reminiscent of a life raft—low in the water, its white edges surround central dark protrusions.
Dropping to a lower altitude, we turn to intercept and identify the object. At closer range, it hasn't resolved. Then we spot an identifiable feature. A huge, surreal tailfin is dangling from one end of the mass. Bleached white by the sun and salt, the whale's bloated skin and blubber are bobbing like a Styrofoam cork. The dark shapes protruding from its center are ribs and decaying entrails. A huge shark dines on the fetid feast. We see pods of whales all the time; however, this is the first dead one for us. Firm in the knowledge that, save a Joana-want-to-be, there are no sailors waiting for rescue, we turn toward the airport.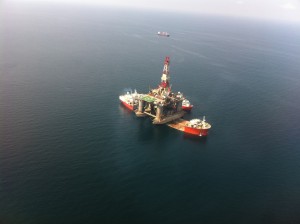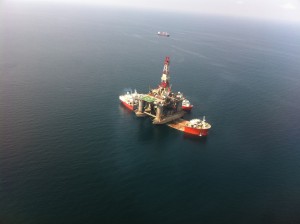 Onboard radar shows a significant line of showers approaching the airport from the opposite direction. Ordered to hold for landing traffic we orbit two miles north of the airport. This affords us the opportunity to watch as a lifting ship floats a GIANT drilling rig on its cargo deck.
For scale, it's the same class and size of the pictured vessel that brought back the USS Cole after it was bombed in Yemen.
Finally cleared, and with the impressive monsoon bearing down on us, we land mid-field, abeam our hangar, and taxi the short distance to our refueling point. As we complete our shutdown, the plane that delayed our arrival taxis past. It's an Antonov AN-124, the world's second biggest airplane.
Our passengers and cargo are unloaded, and the aircraft is refueled.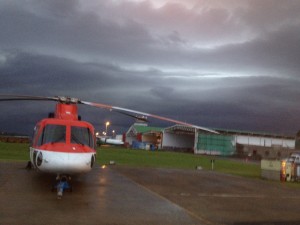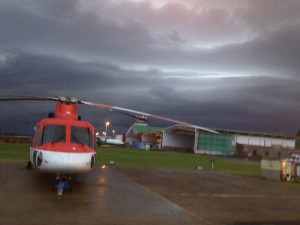 With the storm bearing down on us, the maintenance crew moves the helicopter into the hangar.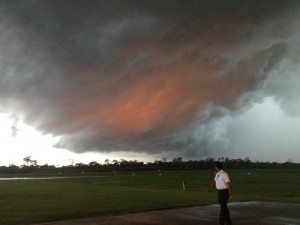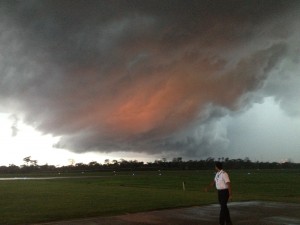 The black clouds are ready to make their contribution to Bioko Island's annual 300+ inches of rain.
Taking shelter from the downpour, we complete the paperwork, (the work is not complete until the paperwork is). Loading into the company bus, we head back to the compound.
7:30am and the day's work is complete. This doesn't happen often, but I'll take it when it does. I regularly joke that I don't work for a living. And if it wasn't for the ever-present danger of malaria, military coups, internment in a third world prison for taking pictures (it has happened), and the(remote) potential to contract a parasite that takes six years of treatment to rid … this would be a cake job.
But I digress.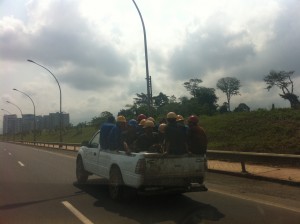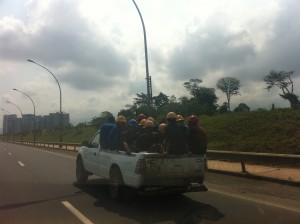 Where was I? Oh, on the way to the compound we spot a small Isuzu pickup with twelve Chinese laborers in its bed. Equatorial Guinea's oil production has led to rapid growth and significant improvements in infrastructure. Chinese contractors do Ninety-five percent of the related construction. Ex-Soviet Ukrainian troops and Air Forces in Russian equipment provide military security. Thus I am surrounded by Chinese workers while sharing airspace and ramp-space with ex-Soviet troops and airmen in uniforms and equipment that, two short decades ago, I'd only seen in grainy black & white photos (presumably snuck out of the USSR by Cold War era spies) … who'd a thunk it.
Back at the compound, a few of us decide to head to the Sofitel Resort on the island's northeast corner. It's time for some spearfishing and jet skiing.
However, I'll save that for Part 2.
Copyright secured by Digiprove © 2012 Dean Cole